NXTCOLD™ is the next generation of industrial refrigeration. Together, our two companies (CEC and NXTCOLD), can provide you with this cutting edge technology for your new construction or retrofit project.
Created to mitigate the biggest setbacks to large scale ammonia refrigeration – the large amounts of ammonia and the regulatory and energy consumption hurdles involved with that – NXTCOLD uses as little as 8 ounces of ammonia per ton of refrigeration, has zero Global Warming Potential, is much more energy efficient than a central engine room, and is safer to operate than any other industrial refrigeration system.
This innovative approach to industrial refrigeration is the combination of proven industrial refrigeration components with NXTCOLD's very own ERIC technology. ERIC stands for Electronic Refrigerant Injection Control. This revolutionary piece of technology, in combination with tried and true refrigeration components is what separates NXTCOLD from the rest of the "Low Charge" systems.
"The 'ERIC Technology Phenomenon' is transforming industrial and commercial refrigeration into systems that are safer, more environmentally friendly, more efficient, and more economical to own–A win, win, win, win situation." JOHN SCHERER, CREATOR AND INVENTOR, NXTCOLD
An independent study has found that this ultra low charge ammonia refrigeration is more than 20% efficient when compared to a central engine room.
And with so little Ammonia, the NXTCOLD system is one of the safest industrial refrigeration systems ever created.
With units ranging from 10 to 150 tons and true convertibility in temperatures ranging from -40°F to +50°F we're able to find the right fit and function for nearly any cold storage facility.
NXTCOLD's self contained refrigeration systems can either be installed on the ground beside your facility or on the roof as a penthouse unit. This allows for retrofits of existing refrigeration systems on any building.
Because of our unique relationship with NXTCOLD, Controlled Environments has a broad knowledge base of all the unique benefits of this state-of-the-art refrigerations system and we're able to bring it directly to the customer.
Contact us today if you'd like more information on on this system and what it can do for your facility.
NXTCOLD™ ARRIVAL AND INSTALLATION:
LOW CHARGE AMMONIA REFRIGERATION WHITE PAPER: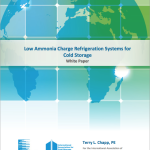 NXTCOLD™ BROCHURE: